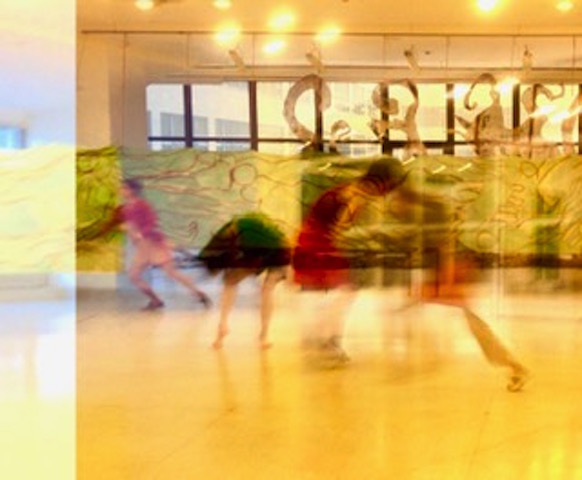 Narrative Assemblage: tuning a personal sense of performance
5 days workshop led by amazing and inspiring Martha Moore (USA/FR) for dancers, performers, choreographers and performance makers.
The workshop is organised in two parts:
* physical awareness – focusing on preparing the body for movement and creation (90 min)
* workshop – focused on performance skills and tuning a personal sense of performance framed as creation of short solo scores (3,5hrs)
____________________________________________________________
detailed information:
Martha Moore (USA/FR)
Former member of the Entourage Music & Theater Ensemble in United States, she lived and created works in New York City,between 1976 and 1982. She then moved to Paris, where she danced and collaborated with numerous choreographers (ranging from Mark Tompkins to Alban Richard, a.o). She's been teaching and leading workshops across Europe and had several teaching artist residencies at the European Center for New Dance Development in Arnhem (NL). She is a co-founder of the collective «Les Pénélopes». In her work she's always been interested in mixing movement and text. Nowadays, she collaborates with visual artist Félix Perrotin with whom she co-signed the « out of the box » performances – John & Jane installations. She also leads series of dance events in various countries in Europe.
about the workshop:
Physical Awareness
Martha's work is an exploration bridging research and form, discovery and integration. It is a work that continues to evolve as a process, a sharing of experiences without offering a reductive ready made recipe. On the contrary, the participants are encouraged to explore their personal paths and movement within a clear framework. The classes aim to cultivate physical awareness and are articulated around micro-movement in connection with voice resonance and breathing. This warm-up later leads to finding pathways and subtle adjustments in posture and movement.
This will be followed by a guided improvisation, using simple (and sometimes not so simple) movement and spatial constructs, developing listening skills before concentrating on the workshop section.
Narrative Assemblage
The workshop will focus on fine tuning participants' personal sense of performance as performers and/or creators. This work will be a proposition to explore the notions of building a solo around a purely fictional auto-biography, where movement and text can co-exist in a non-linear fashion. This is not a theater exercise. Very few words are used.
The idea is to create an open system of situations and fragments that will be built up, altered, and torn down daily. Watching and commenting on each other's work will be an integral part of the process.
The week workshop will be concluded with a performance.
________________________________________________________
for reservations and enquiries:
ostruzina.workshops@gmail.com
+ 420 732 58 97 33
________________________________________________________
Price:
entire workshop:
3 000, Kč until November 10
3 500 Kč after November 10 and on the spot
morning "physical awareness" classes 9.30 – 11am
1200 Kč all 5 days
300 Kč single class
onde full day:
700 kč
Please pay by transfer to: 15157/5500
specifying in the information for beneficiary: your name and what you're paying for
to reserve your place in the workshop/morning class(es) it is necessary to pay the fee in total
cancellation:
until November 10 the full amount will be returned, after only after you have found a replacement